In HeliValue$ last two quarterly market updates and our recently published article World Oil Prices and Helicopter Demand, there has been mention of the declining used single light turbine helicopter market. The recent news of Air Methods and Bell Helicopter's agreement for the acquisition/sale of 200 407GPX helicopters as part of their fleet renewal program is indeed good news for both parties. However, this deal will put even more strain on the single turbine re-sale market.
The helicopter re-sales market inventory is starting to show a significant increase of single-turbine machines like the Airbus H120 (EC120B), Airbus H130B4 (EC130), Bell 206B3, 206L series, 407 and the Airbus H125 (AS350) series. As of February 27, 2015 there are more than 250 H125s for sale on the worldwide market. There are approximately 77 H125B2s (AS350B2) on the market. Some of these aircraft have offering times over 200 days. There are 61 407s on the market, according to AMSTAT.
The single light turbine is one of the two largest categories of helicopter in the world. The other is the single piston helicopter. Historically, North America utilizes 50% to 55% of the world fleet of helicopters. In our World Oil Prices and Helicopter Demand article, we mentioned that the lack of seismic contracts has impacted the single light turbine used helicopter market. That is true, but it is not the only reason there is a glut of these helicopters on the worldwide market.
What Factors are Impacting the Used Single Turbine Market?
► Production Exceeds Contract Demands
The OEMs continue to produce newer generation light single-turbine helicopters. These aircraft are simply replacing the older models. The Great Recession resulted in a shrinking of contracts of all mission types. The North American economies are starting to recover with some contracts coming back and even growing slightly, such as the Helicopter Emergency Medical Services (HEMS) industry. New helicopter deliveries for corporate/VIP seem to be increasing. Offshore Oil & Gas support continues to acquire new single light turbine helicopters but at a significantly reduced pace compared to the medium, heavy medium, and heavy helicopters. In every case, the rate of delivery exceeds the amount of new contracts. The only options open to operators is to sell off the older aircraft or, in few instances, make the older aircraft parts machines.
► Mineral Exploration Crash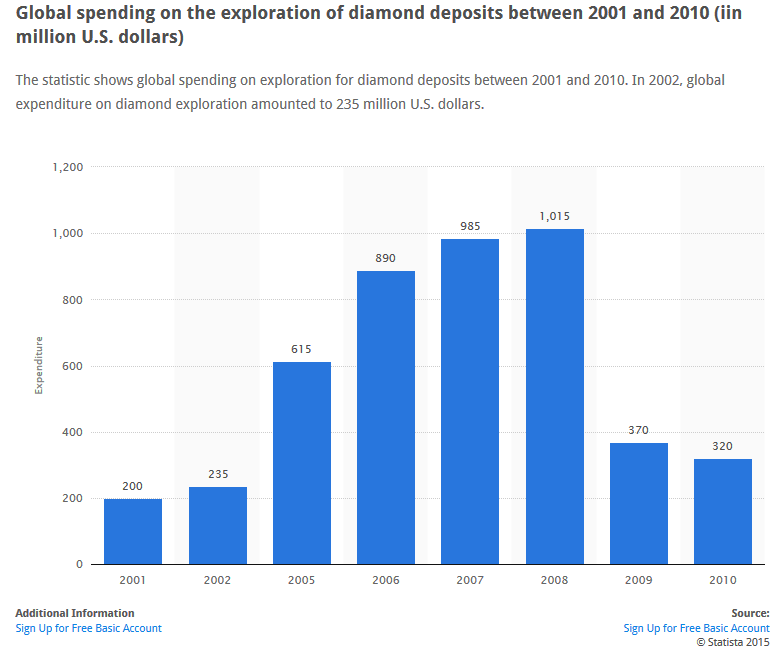 The bread and butter for the light single-turbine helicopters has been remote & mountainous exploration contracts, especially Canadian mineral and seismic exploration. These contract types are so few as to be non-existent, and future prospects look extremely dim. One large Canadian operator I talked to stated, "The light single-turbine helicopters are in a slump for a long time to come." Metal futures continue to shrink, so there is little interest in remote area exploration projects. Kimberlite became a hot commodity at the turn of the millennium, but exploration tanked in 2009 and continues to shrink. According to Statista.com, money spent on world exploration of diamonds peaked in 2008 at over one billion dollars. The estimate for this year is supposed to be around 250 million dollars. Last year only fourteen percent of the money spent for diamond (kimberlite) exploration was in Canada. The few remaining exploration light turbine engine helicopter contracts in Canada are certainly fiercely contested.
► Electronic News Gathering (ENG) Helicopters
A certain celebrity ex running back decided to take a leisurely drive through the Los Angeles expressways in 1994. The event was captured live by various local channel TV helicopters. That event spurred a large expansion of ENG helicopters. The H125 (AS350) series aircraft became the aircraft of choice, but the Bell 206B3 and 206L series were used as well. The prevalent use of those aircraft came to a screeching halt with the Great Recession. Smaller venues like Nashville, TN, Cincinnati, OH and Charlotte, NC either abandoned helicopter ENG or opted for smaller platforms like the R-22 and R-44.
► Dual Engine Requirements
Most large O & G companies require their personnel to fly in dual engine aircraft especially over remote areas like the South American jungles or offshore. From Columbia to Bolivia, partnerships in exploration and production include those large O & G companies in some way or another. The past six years has seen an increase in light twin helicopters such as the BK117C series taking over contracts that were previously being awarded to Airbus H125 series (AS350) and Bell 206L3 & 4.
► Poor European Re-Sales
Used light single-turbine aircraft do not sell well in Europe. Unlike the wide-open spaces of Australia, North and South America, Europe is a very densely populated area. EASA regulations only allow dual engine aircraft over congested areas. European secondary markets for light single-turbine helicopters are certainly challenging.
► Eclipse of the Bell 206BIII
The Bell 206BIII has finally reached the end of its once overpowering presence in the worldwide market. There are several reasons for this, but it boils down to economics. The old bird simply costs more than its competition to maintain. One operator told me, "It costs more to maintain and operate a B206BIII than a B206LIII or IV. The B206L series carries two more passengers and gives us more flexibility and better margins of profit than the B206BIII." Bell built a lot of these aircraft. They are still out there and for sale.
► Better Maintenance/Operations for Increased Useful Life
Helicopter maintenance procedures have advanced to the point that aircraft have very little "aging" problems. Some helicopters are operated in corrosive environments such as offshore or in dusty, sandy remote areas. Offshore operators have procedures in place that negate most of the corrosion problems. For example the largest, privately held Gulf of Mexico offshore operator, RLC, LLC has a program in place to completely rebuild their helicopters every seven years. Operators in those dusty, sandy remote areas have procedures in place that mitigate the erosive effects encountered such as improved inlet barrier filters and leading edge abrasion strips. The industry has seen maintenance and operating procedures go from sometimes not so good or marginal in the seventies to the very best maintenance/operations procedures that are the norm today.
High Hour Usage
Even with improved maintenance and operation procedures that extend the useful life of a helicopter, high hours on an airframe do have an impact on value in a market where there are so many comparable models to choose from. An H125 (AS350) series aircraft over 12-15 thousand airframe hours, impeccably maintained, will still find prejudice when there are fifteen like equipped of the same model with only 4-6 thousand hours on the airframe.
Ninety percent of the 62 B407s and the 77 H125B2s (AS350B2) on the market have less than 8,000 hours. A helicopter offered on the market with more than 10,000 hours would have to lower their asking price to compete with these less used light single-turbine aircraft. HeliValue$ calculates a five percent deduction for aircraft over 10,000 hours and a ten percent deduction for those over 15,000 hours in our valuations.
Exceptions
There are exceptions. For instance, the B206L4 has only ten aircraft on the resale market. Most of those are VIP/corporate configured aircraft. Hours on the airframe would be less of a consideration than having, say, a utility, United States Fire Service (USFS) approved configuration. The venerable B205A-1++ is another exception. They all have fairly high times on their airframes but are in a market all their own. There are not many of them and are the aircraft of choice for the USFS, Canadian Provence Fire Suppression agencies and remote area work. The MD500 series, Bell 206BIII, Bell 212s, Sikorsky 61Ns and S76C++s are other examples where high airframe hours make little impact on their resale value.
Conclusion
We do not see a scenario where there will be an increase in contracts to absorb this large inventory of single light turbine helicopters. Fracking and shale oil will continue to make seismic operations in mountainous and remote areas economically unsupportable. Small venues such as Kansas City, MO., or Denver, CO. will continue to use smaller, piston-powered helicopters. O & G companies will be able to demand multi-engine aircraft because there is a plethora of small twin turbine helicopters available to buy on the resale market. Some mineral exploration contracts will increase but certainly not enough to reach the levels of the late 2000s. As one of my colleagues stated, "The light single-turbine engine market sucks!"