About The Official Helicopter Blue Book®
The Blue Book covers resale pricing, resale trends, Perspectives: A Helicopter Resale History® , and technical Specifications for over 200 civilian helicopter models.  An index of what models are included and what pages are active for each is found here.  
Blue Book values are updated as soon as we begin to see changes in the published values.  In addition to on-demand updates, HV$ reviews every model covered in the Blue Book each quarter to ensure the most up to date information is available for every model we track.
This Guide is intended to give general instruction on navigation and basic understanding of the Blue Book contents and tools.  Our FAQ can provide more in depth answers to commonly asked questions.  Of course, our staff is always available to assist with any questions regarding the use of The Official Helicopter Blue Book®.
Disclaimers
The technical specifications and data, the resale pricing, and the helicopter operating cost information described in this publication have been developed through a variety of sources. While we believe this information to be as accurate and correct as possible, we cannot assume responsibility or liability for any business transaction based on the use of this data.
Any technical and pricing data presented is subject to change and it is not intended to substitute for any regulatory agency's or helicopter manufacturer's appropriately authorized flight or maintenance manuals.
How to Use the Blue Book
Accessing the Blue Book
After you purchase your subscription to the Blue Book, you will be redirected to the user dashboard.  The dashboard displays basic information about your subscription.  Use the tabs to the to navigate to other information and purchases.  On the welcome screen of your dashboard you can access the Blue Book by clicking on the "Launch Blue Book" button.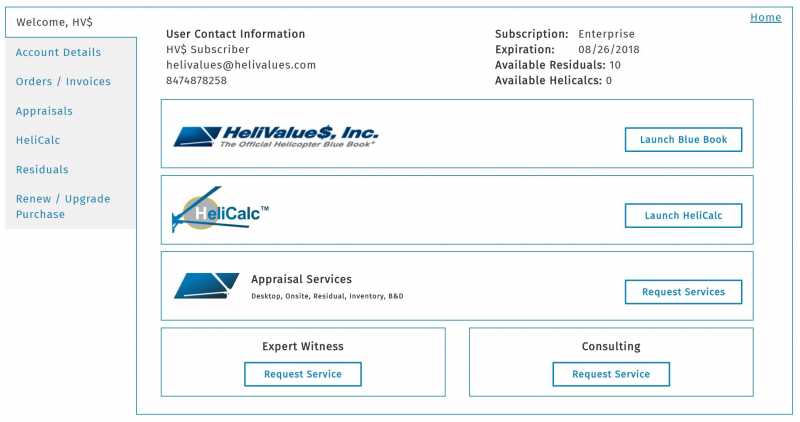 Accessing the Blue Book from the Home Page
The Blue Book can be accessed from the login drop-down menu, the Services menu located on the top navigation bar, or from the Quick Links menu located on the right side of the homepage.

Accessing your Dashboard from the Home Page
Your dashboard can also be accessed by clicking on your name in the upper right corner and selecting Account from the drop-down menu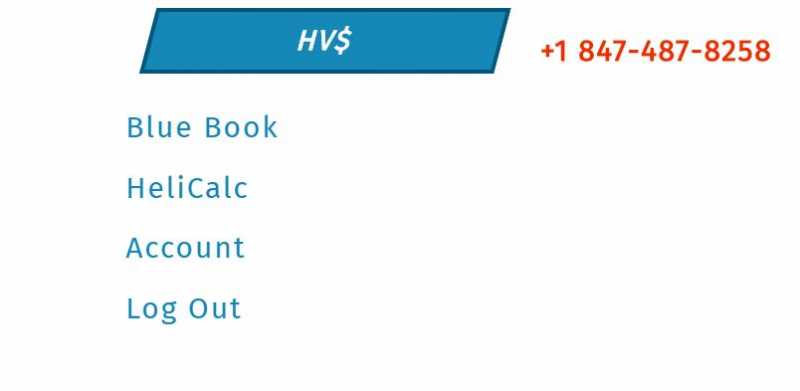 Navigating the Blue Book
Select Units: English or Metric, Manufacturer, and Model from the menu.
Location of some Models may not be immediately clear for some.  
Eurocopter is now Airbus
Augusta or Agusta/Westland is now Leonardo
Bell 47s are located under Scott's Bell
Formally Hughes and Schweizer models are located under Sikorsky
Bell UH-1 models are located in the Conversion drop-down menu for Bell 204B and 205A models
S-55, S-58, and S-62 are now California Helicopter
Select Conversion (if any) and Configuration.  
**Pricing data will not populate until you have selected the Configuration.

Conversion: A major modification to the aircraft that usually increases the value.  Conversions often involve upgraded engine(s) and avionics and are typically given their own nomenclature.  For example, the AS-350B2 may be converted to an AS-350FX2 or AS-350SD2.
Configuration: Is an average complement of mission specific equipment and avionics.
 
Pricing Page
Once you have selected a Configuration the pricing table will populate.
Select a Year of Manufacture, Average Component Usage, and PBH Program (if any).  The Blue Book will highlight a value or value range based on your selected criteria.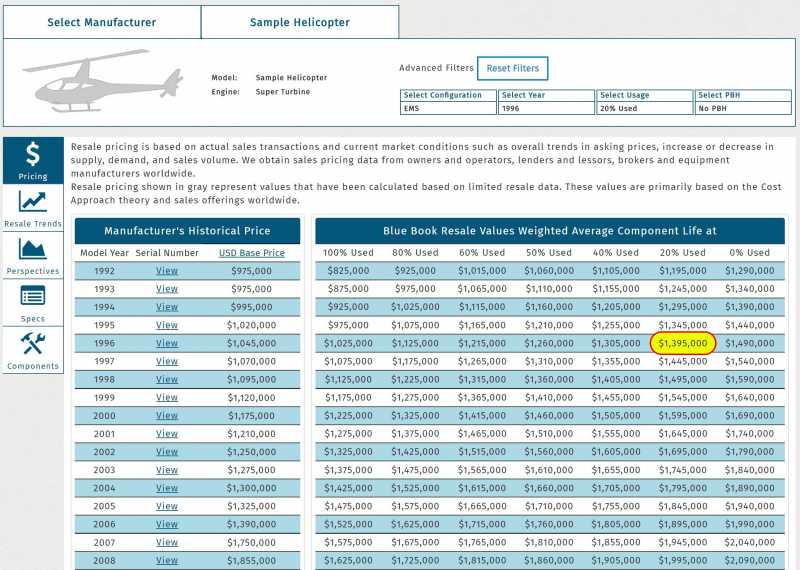 There are two sections of the pricing page.  On the left, is the Manufacturer's Historical Price.  This is the base price for the aircraft in that year's dollars.  
On the right, the pricing columns reflect current resale values based the selected configuration, model year, and average component use.  In this example, a 1996 EMS configured Sample Helicopter with 20% component usage is currently trading around $1,395,000. 
Year: Indicates the original manufacture date of the aircraft located on the aircraft data plate.  
Usage: Is the weighted average percentage used of the major drivetrain components listed on the Components page of the Blue Book.  
PBH: Power-by-the-hour (PBH) - Under PBH, a predetermined hourly payment for the PBH-covered part is made for each flight hour that part has flown.  This ensures that its major overhaul and/or time retirement is accomplished at the proper interval, with the parts provided by the Original Equipment Manufacturer (OEM) or their designated authorized service center.    
Other Components of the Pricing Page
Click the Serial Number View to display the serial numbers that correspond to the model year.  *HeliValue$ is still in the process of adding and updating serial numbers.  We are working with manufacturers to get the most accurate information.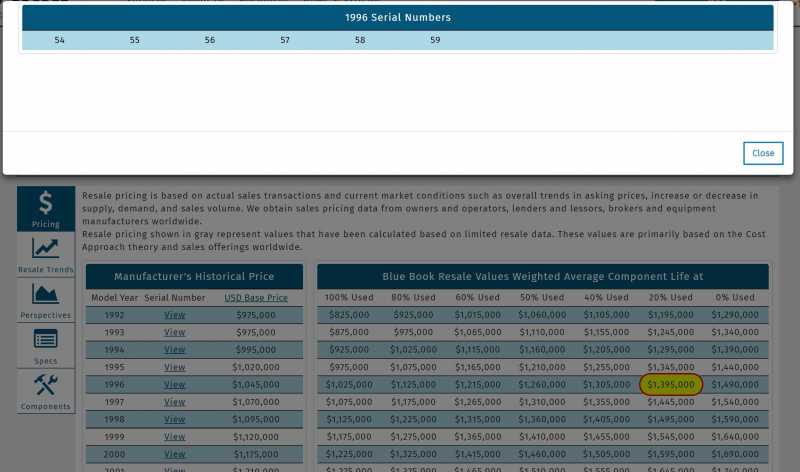 **Specific only to Airbus brand helicopters you have the ability to select between USD Pricing and Euro Pricing in the Mfgs Historical Pricing column for recent production models.  This is not a USD conversion to Euros, but rather pricing for a new aircraft, purchased in that year, in the Americas versus aircraft purchased outside of the Americas.  Clicking the underlined base pricing will display a list of equipment included in the chosen base of the USD or Euro pricing.  USD base pricing is a standard base configuration, whereas Euro base pricing is specific to the configuration. 
Resale Trends
Select Model Year, Resale Trend Start Date, and Resale Trend End Date.
 
Resale Trends display historical pricing based on the chosen start and end dates.  Trends are specific to model year and are only displayed as base pricing.  They do not account for conversions or configuration.
**Dates in the drop-down menu reflect a date when pricing changes were made to the model. However, the changes may not have affected all model years.  As a result, there may not be a value change between selected data points for some model years.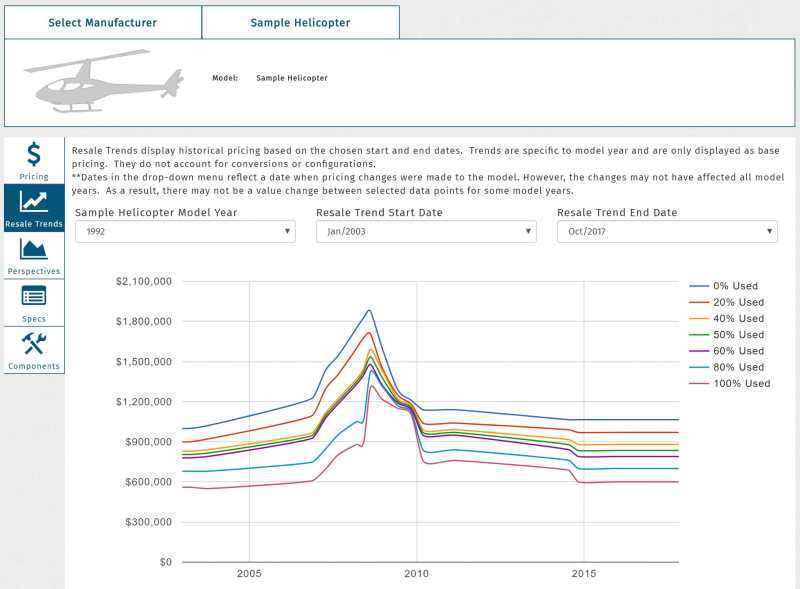 Perspectives: A Helicopter Resale History®
Perspectives compile over thirty-eight years' worth of The Official Helicopter Blue Book© pricing data. Each data point shows the helicopter models' average base resale prices at the first calendar quarter of each year, regardless of the helicopter's year of manufacture. Compared to the components' service-life used, the age of the aircraft has little impact on its value. Price spreads shown are based on the realities of then-current market scenarios. No adjustments have been made for inflation: 1979 values are given in 1979 dollars, 1989 values in 1989 dollars, and so on through the present. All values are given in US dollars and are net retail prices.  Data points begin when resale data started to become available for a particular model.  For instance, if a model started production in 1990 we may not have received resale transaction information until 1993.  
Low Time an average of 10% - 20% component use.
Mid Time an average of 40% to 60% component use.
High Time an average of 80% - 90% or more component use.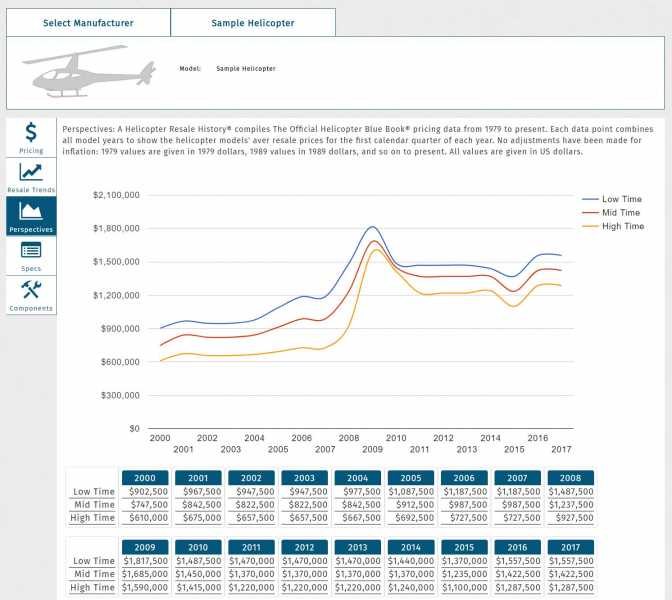 Specifications
Spec pages detail helicopter performance and physical specifications and include both English and metric forms of measurement.  The summary section list common uses, competitive models, variants, differences between variants, and milestones. Also included on this page are links to the Type Certificate Data Sheets for the aircraft.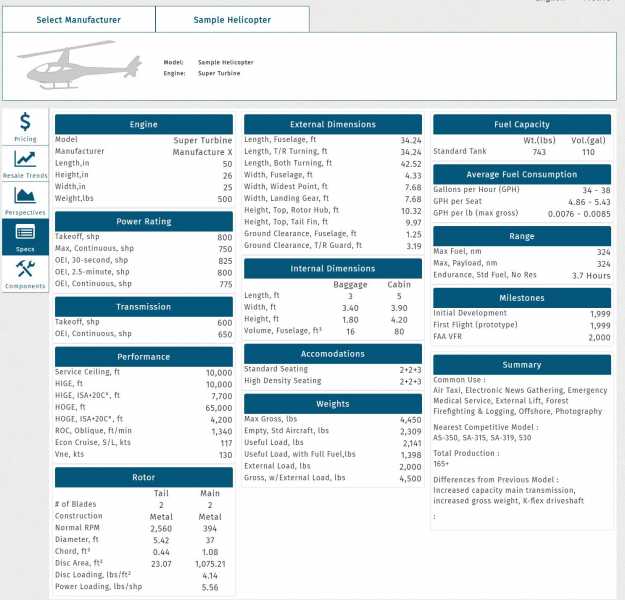 Components
The Components page of the Blue Book lists Overhaul and Retirement intervals and On-Condition limits typically used for appraisal purposes.  Also on this page is a list of Hourly Maintenance Costs.
Each component has an OEM/governmental defined interval of flight hours or cycles before it is required to be overhauled or retired.
Overhaul - Component/assembly is removed and completely disassembled, cleaned, inspected, repaired as necessary, parts of the assembly that have reached their scheduled retirement are replaced, component/assembly is reassembled, and then tested in accordance with approved standards that have been developed and documented by the OEM.
 
Retirement - Components must be removed at retirement limit and replaced with a new component. 
 
On Condition - Components that do not have a pre-determined removal interval, and can remain in service so long as it performs in compliance with its design specification criteria.  It must also meet set parameters during periodic inspections.  Rotor blades are probably the most common example of an on condition component.  In these situations, we place an artificial limit based our 37 plus years of appraisal experience.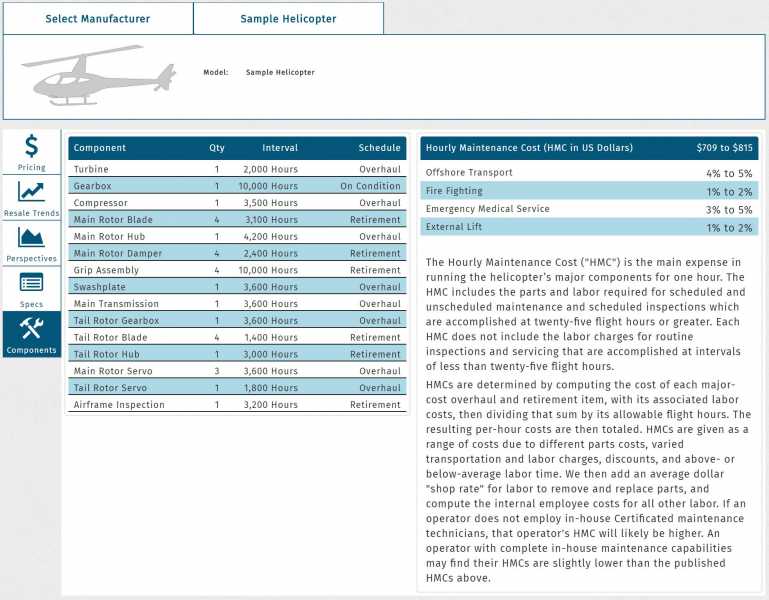 Compare Tool
The Compare tool allows you to compare resale trends, Perspectives, and Specifications for up to three aircraft.  Choose the Manufacturer, Model, and Conversion (if any) for each aircraft you would like to compare.  Select the Percentage Used, Year of Manufacture, and the date ranges you would like to be displayed.  
To view Perspectives and Specifications click the corresponding tab circled in yellow below.  Clicking the Blue Book tab will bring you back to the Blue Book resale pricing page. 
If you need assistance or have any questions, please call our office at +1 847-487-8258 or email us at info.helivalues.com.