Oil prices are slowly on the rise, but supply still remains higher than demand and values continue to decline.  The face of the offshore heavy market has begun to shift.
While there are many heavy class models in various roles, the predominantly offshore AS332L2, EC225LP/H225, and the S-92A have generated the most questions about the current state and future of the heavy class of helicopters.  These aircraft have been impacted by multiple factors; a transition in the market from new purchase or resale to one largely influenced by the leasing sector, over purchasing of these aircraft by the lessors and operators during the boom of oil and gas, the slump in oil prices that has significantly decreased demand, and of course, the plight of the EC225 after its grounding and subsequent rejection by union oil workers. 
Although the S92A has fulfilled many of the obligations created by the absence of the AS332L2 and EC225, there continues to be an excess of S92As which remain idle or in storage due to a lack of contracts.  The chart below illustrates that there are 172 of these aircraft currently in abeyance.  This number of aircraft would not be easily absorbed in today's market or even in the long term. 
Current Estimated Operational Breakdown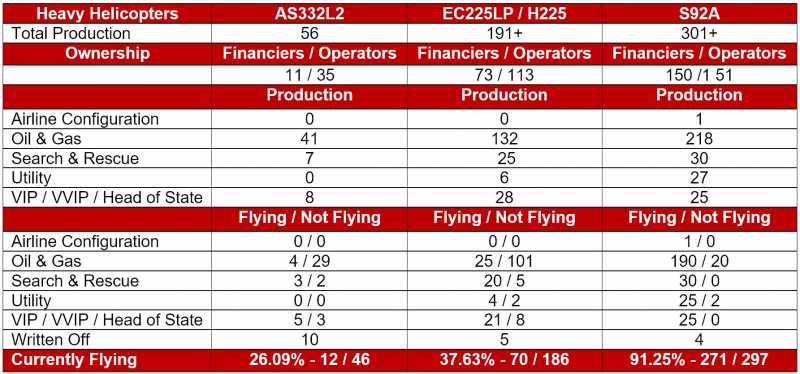 As a result of this oversupply, there has been a transition of these machines from their primary market into secondary markets.  There has been some restored optimism for the EC225LP.  The aircraft is finding renewed interest in the utility, para-public (search & rescue, law enforcement, firefighting), and military markets.   Utility operators that hadn't previously entertained using EC225 for their operations are now considering adding these aircraft to their fleet.  It has been purported by some in the industry that activity for the EC225 will continue to increase as witnessed over the past six months.  This is made evident by recent transactions and conjecture that there are several others pending.  Additionally, there has been interest in converting the offshore S92A into a Search & Rescue role.  Lessors have been acting on these interests and forming plans for placement of their aircraft.  However, both aircraft are suffering from a shortage of parts to perform the necessary modifications.  The unavailability of parts has resulted in extensive lead time for conversions to be completed.
Introduction of the Super Medium
The introduction of the 7/8-ton super medium class of helicopters poses a challenge to all heavy class helicopters.  The super medium class of helicopters includes the Airbus EC175, Leonardo AW189, and the anticipated Bell 525 helicopter.  These aircraft are capable of seating 16 to 18 passengers and perform the same work roles as those in the heavy class.  It has been indicated by some that the super medium class of helicopters is capable of performing 90% to 95% of the offshore missions currently flown by heavy class helicopters. 
Lessors have a large investment into the heavy class of helicopters, particularly the S92A.  Based on current supply and lease rates, it can be more economical to lease an S92A over purchasing a new super medium. It is likely that leasing companies will offer and promote the heavies over the super mediums as the lower cost alternative.  Ultimately, the demand of the operators and oil companies dictate the market. If operators/oil companies choose super mediums over the S92A, leasing companies would try to meet that demand and there would be an increase in the number of S92As on the resale market further impacting values.  However, the S92A cannot be completely replaced by super medium class aircraft.  The S92A would still have a significant market share of the offshore and search and rescue sectors.  
Fleet Diversity
Some operators and oil companies have started to ask themselves if they may be too heavily dependent on a single model.  Should a massive, long-term grounding like the EC225LP effect the S92A, the shortage would be devastating to operations. Diversifying a fleet with a mix of super mediums and S92As could lower some of the risks should such an event occur.  The idea of diversifying a fleet is further spurred by sustained low oil prices which have caused long-range exploration to drastically decrease.  Aircraft with a longer range will be in less demand until there is an increased need for long-range exploration. 
Impact of Leasing
The helicopter industry has experienced a boom in leasing activity similar to the commercial airline industry, only over a much shorter period of time.  Before the entry of the only dedicated helicopter lessor, Milestone in 2010, leasing activity was mostly between operators and on a much smaller scale.  Presently, there are six major helicopter lessors with combined fleets of 600+ helicopters worth an estimated seven billion dollars, a large percentage of which are comprised of heavy class helicopters.  Since a majority of heavy class helicopters are now owned by leasing companies, this means the lessors are essentially controlling the market for these assets.  As lease rates drop to move idle inventory, leasing becomes an even more favorable option over buying a helicopter in today's market.  However, if lease rates continue to fall, asking prices and resale values will continue to decline and may not recover for many models.  
Exact numbers of heavies currently for sale is difficult to determine.  Based on publicly advertised listings, there are only four AS332L2s, fifteen EC225LP/H225s, and nine S92As.  Many have chosen to place their aircraft with brokers as off-market listings, which means these numbers are conservative.  Additionally, it is expected, over the next 12 to 16 months, an estimated 40-45 S92As will be coming to the end of their lease term.  It is uncertain how many of those leases will be renewed. In response to the continued decline in the offshore heavy market, lessors have expanded their business to include light turbines.  Lessor will likely put more focus in markets that are showing more stability and growth such as EMS, law enforcement, utility, and firefighting. 
Today operating leases remain an attractive alternative to traditional financing for operators looking to retain cash, maintain balance-sheet flexibility, and align lease terms with contract terms. These benefits are all the more important under the current market conditions.
Outlook
The heavy offshore market continues to face many challenges, but the helicopter industry as a whole is resilient.  It's not certain how this market will evolve, but with time, it will adjust.  What number of these offshore heavy aircraft find opportunities in different work roles, and what impact the new class of super mediums will have, will determine how that future is defined.