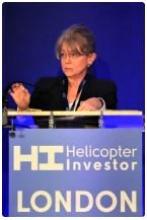 Sharon Desfor
Chairman
Accredited Senior Appraiser
Sharon Desfor, ASA, is Chairman of the Board and Owner of HeliValue$, Inc., the world's most trusted helicopter appraisal firm, and publisher of The Official Helicopter Blue Book®, the accepted standard for helicopter resale pricing information.
Sharon is an Accredited Senior Appraiser of the ASA. She served proudly on ASA's Board of Governors as International President and multiple committees before that. She edited their M&TS Journal as well as "Valuing Machinery and Equipment, Third Edition." Sharon is past Chair of the Helicopter Foundation International and of the HAI's Finance & Leasing Committee, where she was a contributing author and editor of HAI's finance handbook, "Helicopter Funding: Assembling the Pieces of the Puzzle."
She performs appraisals for finance and leasing, helicopter acquisitions and sales, bankruptcies, estate settlements, mergers and acquisitions, subrogation, and litigation support. She enjoys teaching finance people about the helicopter industry and helicopter people about the finance industry.
Sharon is respected and warmly welcomed everywhere in the helicopter and aviation finance industries. She has published over 50 seminars, webinars and articles for more than twenty different organizations and publications in the last two decades.
She is a vigorous advocate for professionalism in appraising, and an outspoken participant in appraisers' forums on LinkedIn. You can find her profile and groups at www.linkedin.com/in/sharondesfor.
American Society of Appraisers
,
Helicopter Association International