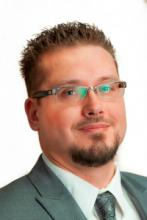 Jason Kmiecik
President
Accredited Senior Appraiser
Jason Kmiecik, ASA, is President of HeliValue$, Inc.  He is responsible for the execution and management of HeliValue$' corporate business strategy, internal appraisal processes and programming of proprietary algorithms, appraiser staff, and primary editor of The Official Helicopter Blue Book®. He frequently consults in aviation finance and lease sectors, participates in industry forums and panels, seminars and educational courses.
Prior to joining the HeliValue$ team, Jason entered the United States Marine Corps in 1998 to begin his career in the Aviation Industry. He worked as a mechanic on various models of airplanes and helicopters such as the F/A 18, C-130, T-34, CH-46, CH-53, and UH-1N during his ten years of Active Duty, reaching the rank of Sergeant and becoming a Quality Assurance Inspector serving in both Operation Enduring Freedom and Operation Iraqi Freedom.
Jason is an Accredited Senior Appraiser of the American Society of Appraisers (ASA), holding accreditations in both Machinery & Equipment and Aircraft Specific designations. He is also in compliance with the Uniform Standards of Professional Appraisal Practice (USPAP) regulations.
American Society of Appraisers
,
Helicopter Association International