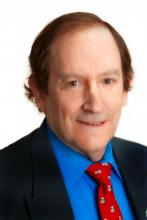 Barry Desfor
Founder
Barry D. Desfor is the founder of HeliValue$, Inc.  Barry spent 20 years as the chief editor and publisher of The Official Helicopter Blue Book®, the worldwide standard for helicopter resale values. During his tenure with the Blue Book, he instituted the principals and standards of helicopter appraising, determining the primary drivers of their values.  The procedures he set forth in the 1970s still stand today for aircraft appraisers who value helicopters.
Barry is the recipient of the Helicopter Association International's Excellence in Communications Award for lifetime achievement in communication in the helicopter field, for his work in communicating how and why helicopters can remain investment grade quality to the aviation and banking industries. He has performed numerous pro-bono presentations to commercial banks and investment firms in the US and Europe teaching the elements of helicopter values as they pertain to leasing and financing.
Barry has spoken at and taught seminars on helicopter valuation for the National Aircraft Finance Association, Corporate Jet Investor, the American Society of Appraisers (ASA) International Conference, and the ASA Chicago Chapter's Aviation Day. He has authored articles and columns about helicopter values for Rotor Magazine, Rotor & Wing International, Aviation International News, and the Monitor.